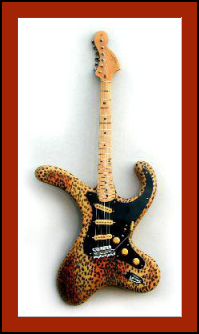 Bender DISTORTORCASTER
Despite the seemingly impossible appearance of the instrument, it actually functions like a normal top-notch electric, thanks to numerous unique aspects of the design. quality of construction and components ensures that this is not just a looker - playability and sounds are equally impressive.
Visually, the Bender 'Distortorcaster' obviously speaks for itself, but here are just some of the not-so-apparent details concerning this larger than-life instrument: The body is constructed from synthetic moulded halves bonded to a full-length central core of obeche. This method provides strength, reduces weight and ensures manufacturing consistency. The all-maple neck incorporates a fully-adjustable truss-rod and, in addition to the various optical distortions, features a lateral twist to aid string-bending in the higher positions Armstrong 'Vintage' single-coils are fitted as standard, ensuring a faithful reproduction of the real thing. The centre unit is reverse wound/reverse polarity for hum-cancelling operation when combined with neck or bridge pickups. The middle control progressively blends centre and bridge pickups in series-humbucker mode, providing high-powered tonal variation. The other two controls comprise master volume and tone. A plush-lined, custom-built hard case is included at no extra cost.
Talking of cost, standard finishes cost £1500 ($2500) other finishes, such as the striking "leopard skin" as illustrated are available at a modest extra cost.